All news
How Auto Repair Shops Can Master Customer Retention: five numbers to keep in mind
Retaining customers in the workshop can be challenging. In the competitive world of automotive repair, each car that rolls out in peak condition is a potential billboard for your business's quality and service. Retention is vital not just for sustaining revenue but for building the reputation that drives your workshop's or garage network's growth.
Join us as we delve into strategies that will not only keep your service bays busy but also ensure your clients drive away satisfied, only to return again and again. To help you boost your business, we have prepared this short article to help you discover the importance of winning the loyalty of your customers.
What does retaining workshop's customers mean?
Retaining customers in the auto repair industry means ensuring that once a car owner visits your workshop or garage network, they remain loyal to your service for future repairs and maintenance.
It's a strategic pursuit that involves providing exceptional service, follow-ups, and building a trust-based relationship. For workshops, bodyworkers, and garage network managers, it translates to repeat business and consistent revenue.
Focusing on customer retention not only drives profitability but also solidifies your reputation in a competitive market
Retaining customers in the workshop is all about communication
It is estimated that only 52% of customers are contacted between one workshop visit and the following*. In this number, there is an opportunity to take action and concentrate on the totality of your customers. Tools such as e-mails, WhatsApp, or your social media channels for a more wide-ranging effort, are perfect for informing customers about promotions or exclusive packages.
This will encourage them to come back to your workshop when they need to get their car checked
Word of mouth is a tool that never goes out of style
In an increasingly digital-oriented world, we must remember that one of our most powerful tools can be our customer's opinions. Satisfied customers naturally convey their positive experiences to others. Talking numbers, customers will share their opinion with an average of 11 people*. So, thanks to your professionalism, people skills and attention to detail, you can attract customers back to your workshop and naturally increase your turnover!
Set a long-term goal
We have already discussed obtaining additional workshop visits by sending reminders to your customers. Although this can be a successful technique for retaining customers in the workshop, remember that this is only sometimes sufficient. To be considered a loyal customer, a customer must have visited your workshop five times (on average)*.
So make sure you are available to meet their requests, such as advice, maintenance plans, and simple or more complex repair operations! Showing your genuine interest reveals outstanding professionalism and will undoubtedly generate a sense of trust in those who have to choose where to take their car to be checked.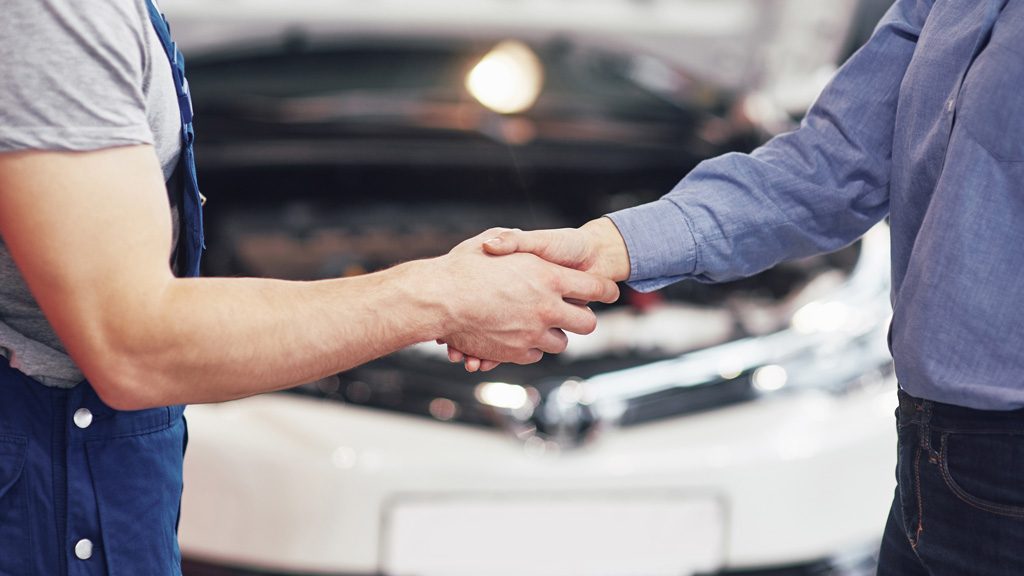 Focus on customer experience
In 2025, 'millennials' (people born between 1981 and 1996) will represent 45% of your customers*. Focusing on a specific population segment may seem counterintuitive when it comes to customer loyalty. However, from a certain point of view, it helps you to think about the future and the people who will one day come to visit you. Therefore, it is not a question of giving absolute priority to a specific target of customers. Instead, it is an opportunity to play in advance with that target and start cultivating relations with this part of the customer base by following the best techniques available.
Want to discover new solutions that can help you boost your business?
Promote the sale of used vehicles to recall customers to your workshop
In case you don't already know, a service often offered by workshops which strongly impacts customer loyalty is the sale of used cars. For example, 46% of customers remain loyal to the workshop from which they purchased their vehicle*. So take advantage of this opportunity and offer your customers promotions tailored to their purchased vehicle. This way, it will be easy for you to become the workshop of reference they will think of when they need it!
Let's end with two exciting numbers
Now that you have discovered new ways to retain customers in your workshop, here is more good news for your business: increasing customer loyalty by 5% can boost profits by 95%! A few simple daily actions can thus produce effective results for for retaining customers in the workshop.
Sources: Castrol, GIPA, Automotive Marketing Intelligence, McKinsey, Bain & Company